Destination Highlight: Grand Cayman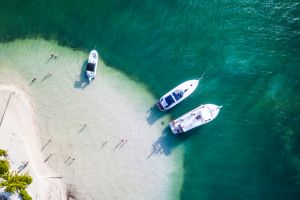 As the largest of the three Cayman Islands, Grand Cayman lives up to its name in every sense of the word. Here, you'll find a bit of hustle and bustle in the nation's capital, George Town, along with stunning natural landscapes and wildlife, tropical flora and fauna, beautiful beaches, vibrant culture, and lots of great shopping and entertainment. No wonder it's such a popular cruise port! Whether you're visiting for a few hours on a ship, stopping over for the day in between flights, or you're staying for a week or more, we can help you make the most of your time on this beautiful island.
Shop 'til you Drop
Affordable souvenirs, artisan crafts, and market wares can be found virtually anywhere on the island.
Our tip? In addition to packing up some Margaritaville Caribbean souvenir blender cups and apparel, we recommend bringing home some traditional Tortuga Rum Cakes (which can be found in many gift shops in George Town or at their factory on the island) for your friends and family to enjoy back at home.
Natural Wonders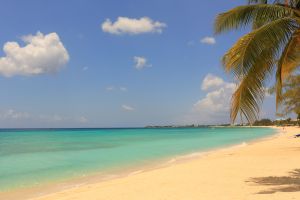 Grand Cayman is known for the famous, award-winning Seven Mile Beach. Located on the west side of the island, this iconic beach is home to soft sand, sparkling clear water, the island's most luxurious properties, delicious restaurants, and fantastic shopping. Here, you can enjoy exciting activities like parasailing, scuba diving, snorkeling, and lots more. Seven Mile Beach is public, which means you can walk the entire length of it no matter where you've made your home base.
Animal aficionados and adventurers alike will love a visit to Stingray City! Found on the barrier reefs surrounding the island, the large sandbars are home to countless sting rays! These wild stingrays are so used to human interactions that they're very friendly and allow people to feed, play, and take pictures with them.
After lots of fun in the sun, you might be looking for a bit of break from the hot, hot heat! Venture underground and marvel at the beauty of Grand Cayman's Crystal Caves! Let an expert guide teach you all about the cave's stalactites and stalagmites and the surrounding lush, tropical forest.
You can even go to Hell and back! We're not kidding, Hell, on Grand Cayman is a geological site where you can be mesmerized by natural rock formations made up of blackened limestone dating back 10 to 15 million years! While you're here, you can even mail your friends a postcard from the Hell post office.
Arts & Culture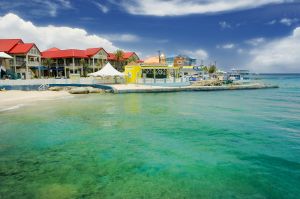 Grand Cayman boasts a thriving arts and culture scene; so much so that it would be impossible to list all of the unique artists, musicians, museums and galleries on the island. During your visit, be sure to pay attention to the local architecture which acts as a museum for the change and growth of the island all on its own. Many buildings still show evidence and influence of times gone by.
Be sure to make a visit to Grand Cayman's oldest building, the national landmark, Pedro St. James (an authentic Caribbean great house from the 18th century). At this historic site you can enjoy the best views of the island below while learning about the history of democracy and culture on Grand Cayman.
Next, make your way to the National Gallery which showcases an amazing collection of art that depicts traditional Caymanian life.
Have Your Best Day Ever!
Finally, a visit to Grand Cayman isn't complete without a relaxing day full of frosty drinks, delicious grub, and a day by the pool at Margaritaville Caribbean's Grand Cayman location. When the sun goes down, party it up on the dance floor as we transform into a nightclub, affectionately known by locals as 'Clubville.'
Enjoy exploring Grand Cayman! If you use any of our tips, be sure to share your photos with us by tagging us on Instagram!