What to Pack for a Caribbean Vacation
Heading out on a Caribbean vacation? Not sure what to expect? Maybe you're setting sail or hopping on a plane for your first ever island vacay and you aren't sure what to pack. First of all, that's super exciting! Second of all – we've got you! We've put together a handy dandy packing checklist that outlines everything you need to enjoy your sunny southern sojourn with some bonus tips and info about what to expect while you enjoy those island vibes.
The Essentials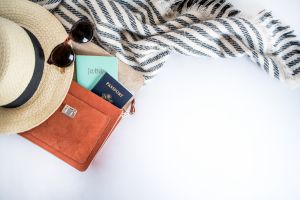 No matter what type of vacation you're taking, it's important to make sure that you pack 'The Essentials' so that you can enjoy your much-deserved trip with peace of mind. Make absolutely certain that you pack your (valid) passport, important travel documents (like the name, address, and booking confirmations for your resort or cruise ship), and the phone number and policy info for your travel insurance provider. It's a good idea to leave a copy of each of these items at home with someone you trust and store digital versions in your email account or in the cloud. Verify that your passport and the passports of your travel buddies are valid as soon as you book your trip and renew it ASAP if it's expired.
When packing prescription medications, make sure that they're stored in their packaging from the pharmacy to avoid any confusion at airport security. Be sure to pack enough for the duration of your trip, and then some.
Be sure to arrive to your destination with some cash in hand. Many vendors in tourist areas of Caribbean countries accept US dollars alongside their own currency, but be sure to think about where you'll be spending money so you can be prepared. Check with your bank to find out what you need to know about withdrawing more cash on-island if you need it.
Vacay Must-Haves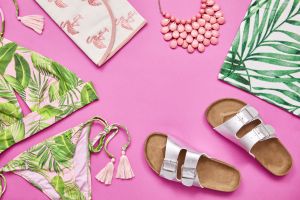 You're probably traveling to the Caribbean for lots of sun, sand, surf, and of course, to have your Best Day Ever. To make sure you can enjoy the sun's rays and the sparkling seas most comfortably, you've gotta pack the right stuff!
When it comes to clothing, pack lots of light, airy, and light-colored items to ensure that you can keep cool even when it's hot, hot, hot. While most of your time will likely be spent in a bathing suit and sandals, be sure to pack some comfy tops and shorts/lightweight pants and a pair of sneakers in case you're partaking in an active excursion or walking tour.
The Caribbean is known for being laid back, but some resorts feature restaurants with dress codes, and cruises will definitely feature a formal night, or something like it. Pack at least one or two 'nice' outfits for when the occasion arises. It doesn't need to be super fancy (unless the dress code specifically states black tie), but khaki dress pants, collared shirts, a few nice sundresses, and closed-toe shoes will go a long way when you want to jazz things up a bit.
On the topic of bathing suits, pack at least two sets of swimming gear so that you always have a dry suit. To make it easy to zip outta the pool and up to the bar or restaurant, pack a swimsuit cover up that's easy to throw in your beach bag and over your suit when it's time to get out of the water.
When it comes to beach bags, make sure that yours is either water-resistant, or you've packed some plastic bags to separate your wet items from your other belongings. Be sure to stock that bag with some high SPF sunscreen (the sun's rays are way stronger in the Caribbean than you're probably used to!), some sunglasses, and a wide-brimmed hat. No one wants to be sunburnt while trying to have fun, and with these essentials on you at all times you'll be well protected. While you can buy all of these items on the island, you'll be better off buying your preferred brands at home.
Nice to Have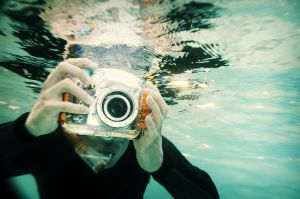 While we're pretty certain that time spent at a Margaritaville Caribbean location is more than enough to make it the Best Day Ever, we recognize that you might not be able to spend every day of your vacay sipping our frozen beverages and enjoy our water attractions, bars, and restaurants. We get it. Lucky for you, we also have a specific checklist for your daytime visit to a Margaritaville Caribbean location. You're welcome.
To waste away the days you're NOT at Margaritaville, you'll want to pack some entertainment for those long, lazy days at the beach. Pack some books, magazines, or an e-reader if you're short on luggage space. There's no better time to dive in to a new book than when you're lazing by the pool or in a beach chair, so pack a beach read and dive on in.
To capture your Best Day Ever memories (and then some!), be sure to pack a camera. It doesn't matter if it's a fancy-schmancy digital camera, a smartphone, or a disposable camera – the point is, you're capturing memories for life. You can even buy waterproof smartphone cases that will allow you to take some underwater shots right on your phone! If you want to take things to the next level, splurging on an action/underwater camera will mean that you can be a paparazzo wherever you go, especially if you're planning on zip-lining, scuba diving, or snorkeling.
If you weren't ready for those island vibes before, we're sure you are now! So pack that suitcase, slap on that SPF, don a pair shades, and you're ready to have your Best Day Ever (and best vacation ever!) at one of our 7 Margaritaville Caribbean locations where it's always 5 o'clock!