Island Vibes: Your Margaritaville Playlist
Vacation is booked. Whether you'll be arriving by boat or plane, get in the island state of mind with a killer playlist. Of course, any Buffett song will get you in the mood—we're particularly partial to Margaritaville—but we're more than a parrot head's paradise. Serving up an authentic, fun-filled Caribbean experience is at the core of what we do. With this in mind, we've pulled together 10 hits to inspire your island daydreams and play soundtrack to your next Margaritaville Caribbean visit.
1. Run Up – Major Lazer feat. PARTYNEXTDOOR & Nicki Minaj
The island roots of each of these artists' shines through in this hit. Let the steel drum beat transport you to a sun-drenched afternoon beach party where your only worry is what margarita to order next.
2. Subeme la Radio Remix – Enrique Iglesias feat. Sean Paul
The ultimate Caribbean listening experience, this hot track mixes the steamy sounds of Latin music with the rhythmic beats of reggae. The perfect jam to grab a partner and dance to, maybe even show off some moves.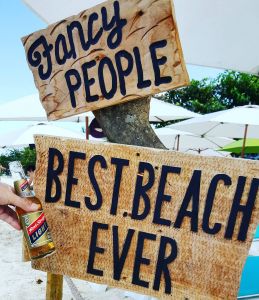 3. Used to – Collie Buddz feat. Kreesha Turner
Let this beat inspire some after dark debauchery at our two-level restaurant turned night club.  Believe us, it's nothing like what you're used TO. A worry-free atmosphere where the drinks flow and the beats bump until the wee hours of the morning—that's Clubville.
4. Crème de la Crème – Double Tiger
If a song could describe a time, this would be that magic point in day when you decide on a whim to keep the good times going. Luckily, with Clubville you won't have to go far to stretch your best day ever into the best night ever.
5. Living It Up – Damian Marley
Reggae wouldn't be reggae without the influence of Bob Marley, and lucky for the genre and a new generation, his youngest son Damian continues to deliver the same thoughtful Jamaican-inspired beats. Live it up and soak in views of Montego Bay while listening to this uplifting tune.
6. Shape of You – Ed Sheeran
Who knew a redheaded brit could capture the intoxicating rhythm of dancehall and our hearts all at the same time. A perfect song for singing along with your girlfriends during a tequila soaked bachelorette party or pumping up the crowd for a rousing night at Clubville.
7. Drake – Passionfruit
Our passion for Drake grows day by day, and we can't help but love the low-key island vibe of Passionfruit. Close your eyes and relax in your own private cabana set on miles of exclusive beachfront in Grand Turk. Passionfruit margarita not necessary, but strongly encouraged.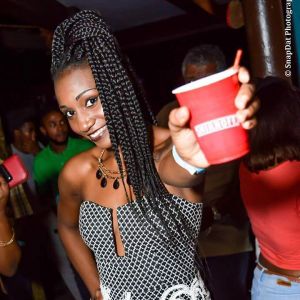 8. Luv Remix – Tory Lanez feat. Sean Paul
You'll love our swim-up bar almost as much as you'll love this Luv remix starring Jamaican artist Sean Paul. Get a taste of new-island beats while staying cool under the hot Caribbean sun in our sparkling pool, frosty drink in hand.
9. Love you like 123 – Treesha & Skarra Mucci
We dare you to listen to this song and not bust a move. From the poolside to the rooftop, there's plenty of space to cut a rug. Why not hop on over to the water trampoline and let your love for Margaritaville Caribbean reach new heights.
10. Slide – Calvin Harris, Frank Ocean & Migos
In addition to being a banger of a beat, we admit we love this song because it reminds us of one our favorite Margaritaville Caribbean Montego Bay activities—flying down the 120-foot water slide all the way from the rooftop and plunging into the turquoise waters below.
Dreaming of frosty cocktails and swaying palms yet? Check out our FAQs for more information on Margaritaville Caribbean, or reach out and let us help you plan your vacation to the best place ever.